Brands' opting for an image makeover is nothing new in today's competitive business space. Sometimes this makeover includes changing the brand's logo. Like any image overhaul, a rebrand can enable a company to update its message, signal a change in direction or appeal to new audiences. For every business, the health of its brand is key to success. And a logo gives the brand its identity. It's bare essence, and is often the essential image consumers have in their mind when they think about a company. Products change, but logos endure. The classic swoosh of Nike; the rabbit of Playboy; The brush-wielding tot for Asian Paints, Apple's half eaten apple. Have all left a successful mark on consumer's mind. However, of late many brands have started changing their logos. And reasons are diverse: From family splits, to operational realignments to signing up new JVs or even global strategy shifts, corporate branding today is getting dovetailed with a bigger transformational journey that enterprises are undertaking. Incidentally, in India some prominent apparel brands have joined in this race for a logo change.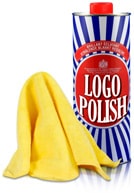 Barkha Dattani, Brand Image Designer, Barkhas Brand Clinic, explains, "After a few decades, the overall structure of the company undergoes a change. From its set up to vision everything modifies. And logo is the face of the brand. It stands as a visual appearance to everything a company stands for. Even the change of colors sometimes in the existing logo can deliver a whole new story."
A prominent apparel brand to have changed is logo recently is Classic Polo. Usha Periasamy, VP Operations and Brand Head, Classic Polo explains the reasons behind the makeover. "We did not have a very clear identity earlier. We were more a product oriented brand selling on product strengths. But of late we have been seeing that business is coming from our quality products. We wanted to give a clear identity to the brand and get closer to the customer. Since there was a mismatch between our thinking and our existing logo, we wanted to bring about an alignment. So we went in for a logo change."
Likewise Park Avenue a brand from the house of Raymond opted for a logo change in its 25th year and received huge success. The brand was looking forward to dressing up New Age professionals. The new identity has lead to it broadening its offerings. It is designed to enhance the customer's desire to own a fashionable brand. Shreyas Joshi, President, Raymond Apparel says, "We also launched the mnemonic which goes with the new look of the brand. With a new signature and visual identity of the brand, the Eagle symbol reflects the strong vision and ability to focus. It stands for new challenges and will be known for a passion and commitment to succeed."
Similarly, based on consumer research Alok Industries felt the need to revitalize its brand H&A to appeal to the evolving customer and get a competitive edge over newer players. H&A decided to create a shift in the shopping experience by being more contemporary and fashionable. "To increase H&A's appeal and create a more vibrant and fashionable brand, we decided to go in for a logo change," says Sunil O Khandelwal, Group Chief Financial Officer. "We also went in for a change in the store layout to reflect the new brand values."
The reason to change the logo is different from industry to industry and even from one target audience to other. As Dattani says "Shoppers Stop's black color logo was not appealing to their target audience, it had an effect on sales and then they modified it." And even though retaining the same logo may mean stability for some industries, in fashion it is always about a new trend, fresh ideas, new forecasts and a new concept in a season. "So if a fashion company is changing its logo it's a very smart move. However, it's essential to ensure that the brand's connectivity with the new logo is appropriate and that consumers relate to the new logo." However, experts caution, as brands cast off the old, they could be waving goodbye to loyal customers. The annals of advertising history are littered with rebrands gone wrong. Successful rebrands are about balance, ensuring the value of the brand remains while signaling a change in direction.